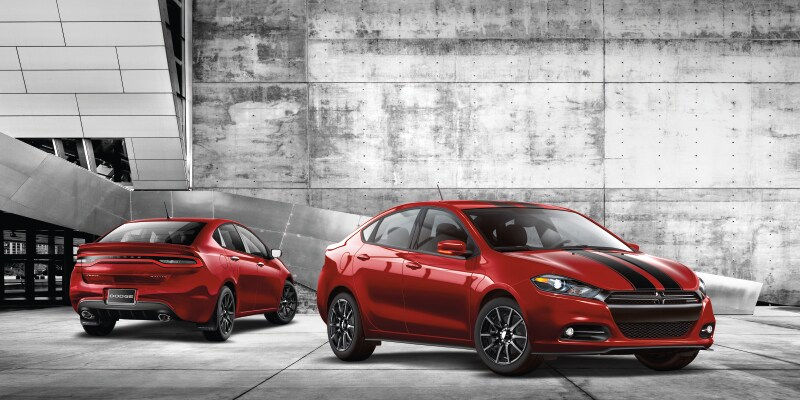 We're frequently approached by drivers looking for the best cars for teens, or the best cars for first-time drivers. Typically, what makes a great first car is a great price, good performance, and user-friendly features.
The Dodge Dart was rated #2 on Autobytel's "Good First Cars" list for 2015, and it's only been getting better since then. Here are five reasons that the Dart is a great first car to buy.
Affordable Price
Even brand-new Dart models started at under $17,000—and that means you can buy a Dodge Dart used for easily under $15,000, with low miles and a showroom-new look. If your budget is limited to $300/mo or less, you can fit in a Dart with cash to spare.
Fun Power
It may be small, but it's not weak. This compact car offers 160 horsepower as standard, and gives up to 184 horsepower when properly-equipped. That's plenty of get-up-and-go, but not so much that your first-time driver will be racking up speeding tickets. And, with up to 41 mpg on the highway, this fun daily driver is incredibly easy on gas, too.
Cheap to Insure
The Dart may look and feel like a sports car, but its mild-mannered personality makes it a breeze to insure. You won't get slammed with huge monthly payments from your auto insurance, and that makes the Dart a great first car for students and teens, in particular.
Tons of Fresh Styles
With models like the Dodge Dart SE, Aero, SXT, GT, and the top-of-the-line Dodge Dart Limited, this compact sedan gives you more looks and styles to choose from than most other rival cars. Add in Mopar gear and accessories, and your first car can easily be customized to fit your individual preferences.
Safety
The Dodge Dart offers a huge range of standard and available safety and security features, as well as connectivity and tech options, to help newer drivers feel comfortable and confident on the road.
Is the Dodge Dart safe? Is a compact car enough for me? What's the price of a new or used Dart? We can answer all your questions—just explore online to find the answer, or contact us directly.