What makes Jeep SUVs the Obvious Choice?
Throughout the years, Jeep has taken the time to engineer sturdy and adventure-ready SUVs. The benefit to an SUV (Sport Utility Vehicle) is that they're able to accommodate more passengers than a car, and they're equipped with various features and details that make them stronger.
Jeep SUVs are ready to be taken off-roading with their four-wheel drive and traction control because they were built for it. Rain, snow, dirt, and concrete – none of these terrains will phase your Jeep. Also, SUVs aren't as close to the ground which gives you a bit more of a presence on busy Atlanta highways.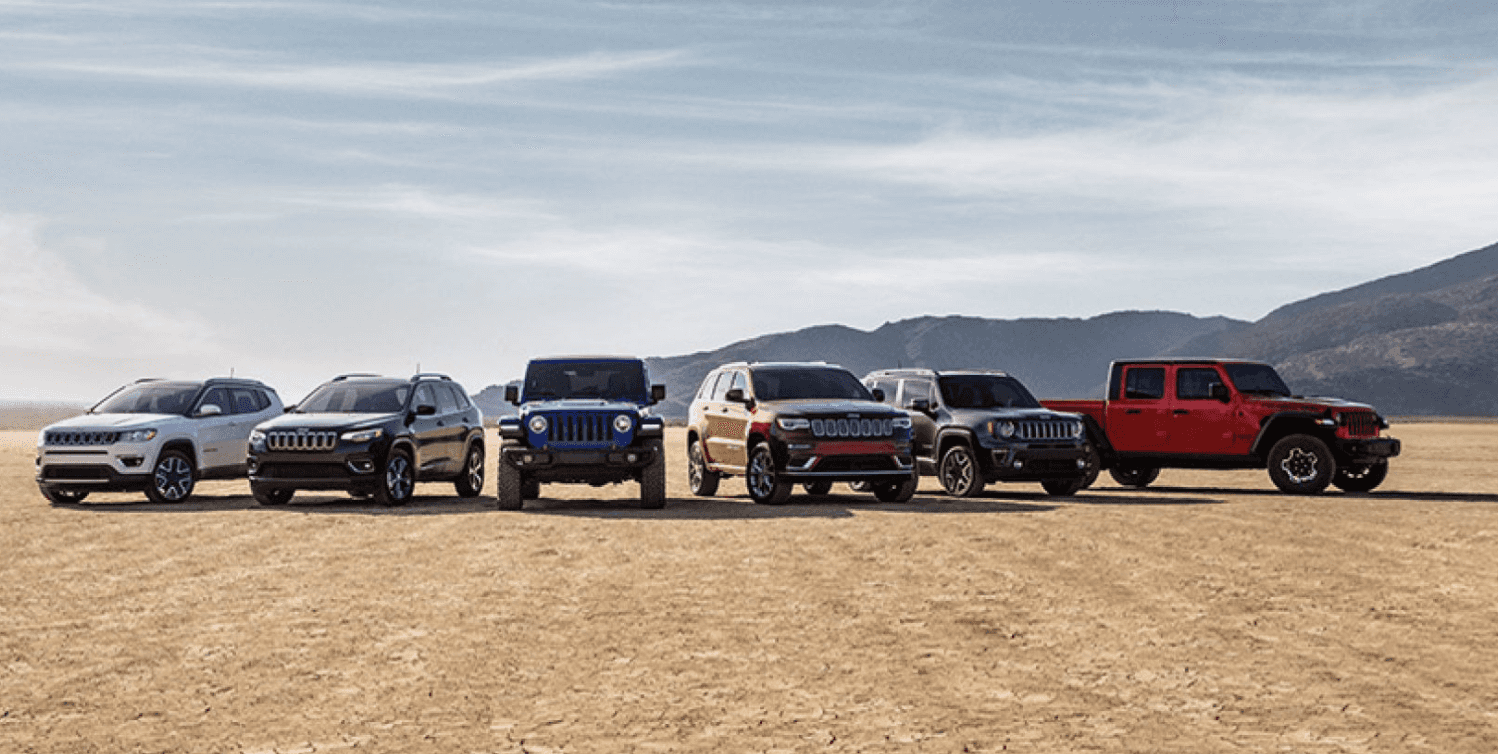 How many Jeep SUVs are there?
Jeep has built a total of 5 SUVs, all with different classifications. The Jeep Compass and Jeep Wrangler are considered compact SUVs, while the Jeep Grand Cherokee is considered a full-size SUV. Meanwhile, the Jeep Cherokee is labeled a crossover SUV, leaving the Jeep Renegade as a small crossover SUV. Each model is equipped with unique strengths to accommodate different lifestyles and budgets.
Compact & Small Crossover Jeep SUVs
For example, a compact Jeep SUV combines the best of efficiency and off-roading which makes them an ideal choice for city-dwellers. If you find yourself on the road or squeezing into small downtown parking spaces, a small Jeep crossover is another great choice.
The Compass, Wrangler, and Renegade are offered in a variety of trims and can accommodate quite a large budgetary scale. The Jeep Renegade and Compass are less expensive than a Wrangler, so it's all about finding your perfect fit.
Full-Size & Midsize Jeep SUVs
If you find yourself needing more seating or a slightly larger option that the compact SUVs, the Jeep Grand Cherokee or Jeep Cherokee are top-contenders. The full-size nature of the Grand Cherokee is ideal for families who enjoy weekend adventures, and the Cherokee is perfect for someone wanting the best of both worlds from their mid-size SUV.
Rick Hendrick Chrysler Dodge Jeep RAM Duluth is here to help you find the perfect Jeep SUV for you or your family. With our four classifications of SUVs and sizable Jeep inventory selection, we're confident that you'll be able to find something to suit your needs.
Contact us to learn more or schedule an appointment at our dealership. We'd be happy to answer any questions regarding performance, safety, and design. We hope to see you at our Atlanta dealership soon!